H&M Top, Cotton On Jeans (
here
)
Bulova watch, vintage belt from mom, Report flats
My current mood right now is just blah. Professors really know how to pile on the load, 3 exams, a research paper, patient care plans, a million-zillion pages to read (slowest textbook reader in the world) on top of work. Sometimes I just don't know where to begin, I'm lost in the middle of it and panic that I can't do it. Thankfully my best friend is always honest with me: it's hard, just breathe, take it ONE thing at a time and do your best. But you know, it's hard to listen because there's just so much running through my mind.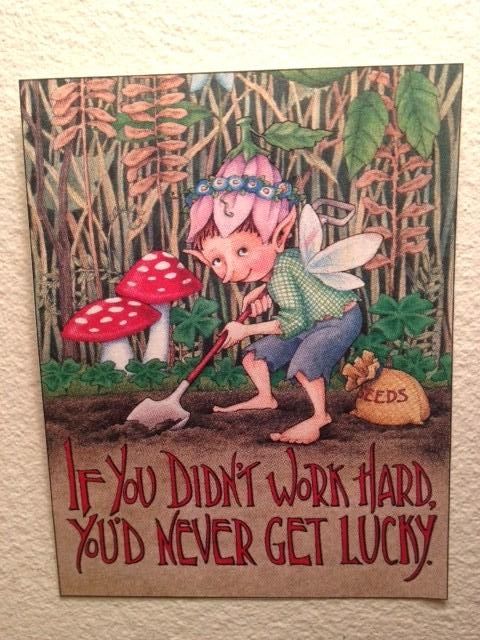 At my desk, I have this picture I cut out from a calendar to remind me that hard work really does pay off and that "winging it" will not always work.
Have you ever gotten jealous of the kid who says "I didn't even study or I hardly studied and I got [a good grade]!" And you think back on how hard you worked to accomplish the same outcome, sometimes, it just doesn't seem fair.
That's my little rant for the night. It just needed to come out. I am going to kiss my pillow when Friday night comes around.
------------ ---------- ---------- ---------- ---------- ----------
Do you think these are considered "colored" jeans? They're a cobalt blue-ish color. I wasn't sure what I would pair with it other than white, so I went with black. I really love the outcome of this outfit...makes me want to get more sleeved-clothing and polka-dots. I love polka-dots.